Analysis On Domestic Vanadium Market On May 27, 2020
www.ferroalloynet.com
: From the current 
vanadium
 market performance, ammonium metavanadate, ammonium polyvanadate, V2O5 flake and VN alloy are still relatively active products in the vanadium market, and market inquiries are mainly focused on these products. This week, although there are not many bidding so far, there are still many inquiries from traders and small steel mills about VN alloy. The spot supply of VN manufacturers is also tight, and the short-term vanadium market is still expected to be strong.
1. The price of V2O5 flake continues to increase slightly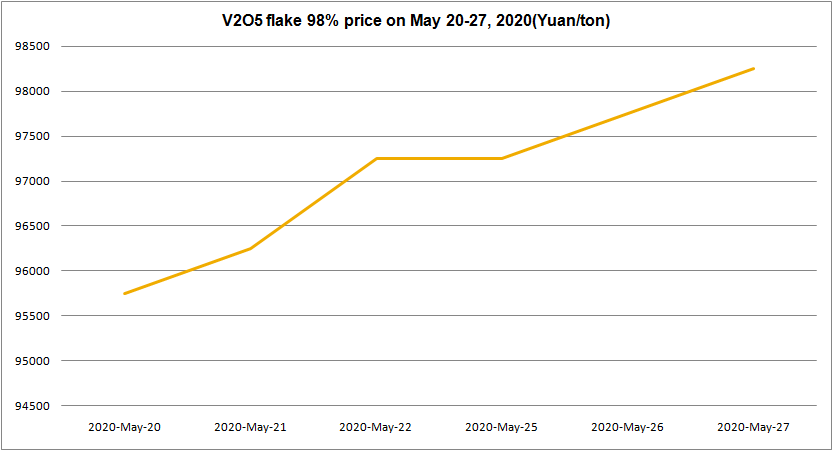 After yesterday's active inquiry in the market, the main transaction price of V2O5 flake rose slightly from 97,500 Yuan/ton to 98,000 Yuan/ton, and some high transaction price reached 98,500 Yuan/ton. As some VN alloy manufacturers signed orders at a reasonable price, and it is judged that the market will continue to rise, which will encourage the manufacturers to actively stock up. Up to now, the purchase price of manufacturers has been 98,000-98,500 Yuan/ton, while the price of holders has been around 98,500-100,000 Yuan/ton. Yesterday, the trial quotation of June's futures V2O5 flake from Dazhou Steel was 98,000 Yuan/ton, and many inquiries were received, but the products were not actually signed out. Today, Dazhou Steel is intend to offer 98,500 Yuan/ton.
2. FeV manufacturers slightly increase the offer, but it is difficult to break through the actual deal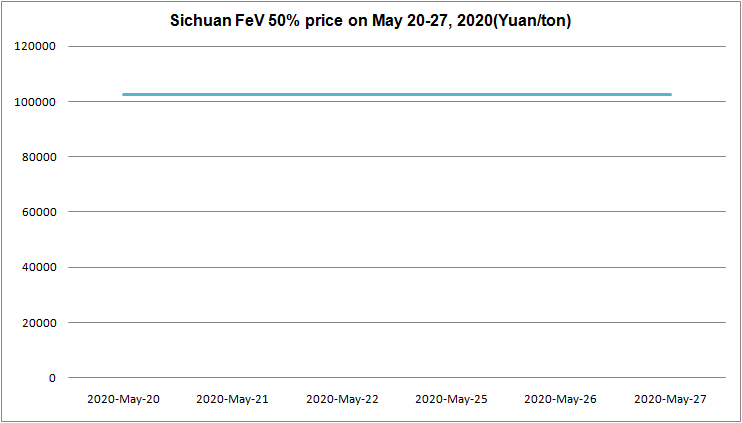 According to FerroAlloyNet, as the price of V2O5 flake rises, FeV plants start to slightly increase their offer to 103,000 Yuan/ton in cash, but the mainstream transaction price in the market remains at 101,000-102,000 Yuan/ton in cash. Some traders offer at 100,000 Yuan/ ton, which is not easy to purchase. The ferrovanadium of large factories in retail market is relatively tight, then the transaction price shows a little bit higher. It is expected that FeV price will be adjusted under the price rise of V2O5 flake, and the inventory of ferrovanadium manufacturers is expected to decrease this month compared with last month.
3. VN manufacturers have no stocks or are reluctant to sell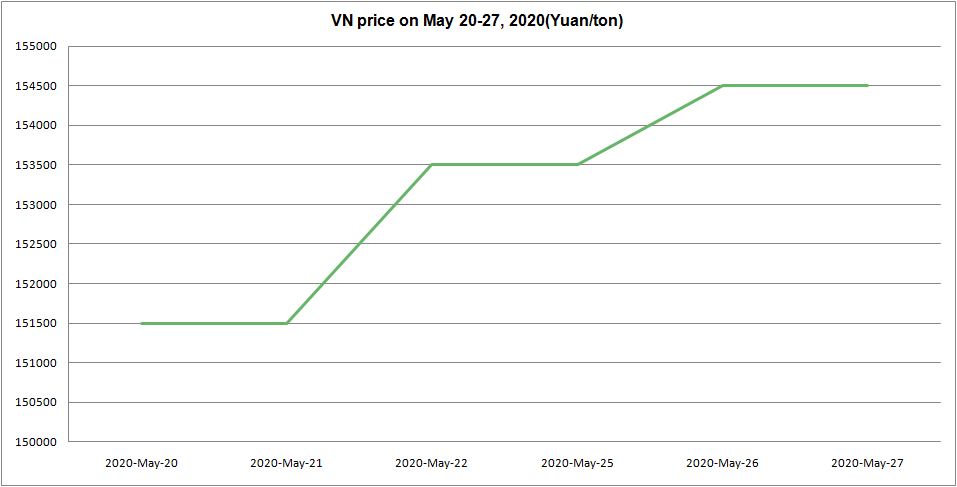 Since this week, there are few open tenders from steel mills, but there are still alloy buyers who have not purchased alloy for June. It is expected that the bidding activities will rise in the short term. The purchase price of most steel plants is 154,000-156,000 Yuan/ton by acceptance with tax. Most steel plants have completed the procurement for June. At present, traders offer about 152,000 Yuan/ton to purchase VN alloy, and the transaction price is mainly 152,000-153,000 Yuan/ton. While Some small VN manufacturers will be faced with heat preservation due to the lack of V2O5 flake. The manufacturers with insufficient raw materials will have no raw materials until the first ten days of June. They need to wait for next month's V2O5 flake of large factories to ease the shortage of raw materials. At present, a small number of VN plants have spot stocks, but they didn't want to sell or quoted at 155,000-160,000 Yuan/ton in cash in order to wait further rise. Generally speaking, the mentality of VN alloy manufacturers is relatively strong, and most of them think that the price will rise again.
www.ferroalloynet.com