BEIJING (Asian Metal) 16 Jul 20 – According to customs statistics, China's vanadium pentoxide export volume reached 437,000kg in May 2020, down by 10.7% MOM but up by 68.0% YOY.
05/2019-05/2020 China's vanadium pentoxide export volume by month (1,000kg)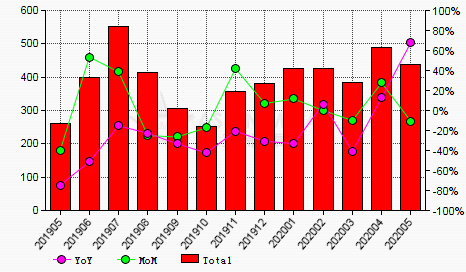 According to the following graph, China exported 281,000kg, 57,000kg, 50,000kg, 25,000kg, 10,000kg, 10,000kg and 4,000kg of vanadium pentoxide to South Korea, Japan, Canada, Netherlands, Indonesia, Germany and the United States in May respectively. In particular, the figures to South Korea, Netherlands and Indonesia saw increases MOM while the figures to Canada and the United States suffered declines MOM, but the figure to Japan remained unchanged MOM.
05/2019-05/2020 China's vanadium pentoxide export volume by nation (1,000kg)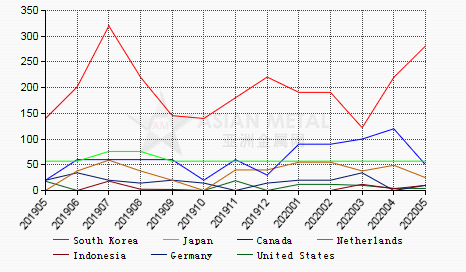 www.asianmetal.com