Drilling Program Completed At The Australian Vanadium Project
Australian Vanadium Limited (ASX: AVL) has completed drilling within the current Pre-feasibility Study (PFS) pit design to further refine the structural model and provide additional input to the resource and geotechnical data supporting the pit design.
DRILLING COMPLETED
Thirteen RC holes were drilled at the Australian Vanadium Project ("the Project") between the 13th and 18th October 2019 for 1,224 metres, further defining the high-grade zone (HG 10) within the PFS case area. 
Drilling was largely concentrated at the junction of two major fault blocks (17 and 20). 
Visual records of HG 10 intercepted in these holes demonstrate continuity, with minimal weathering to the very southern edge of fault block 20.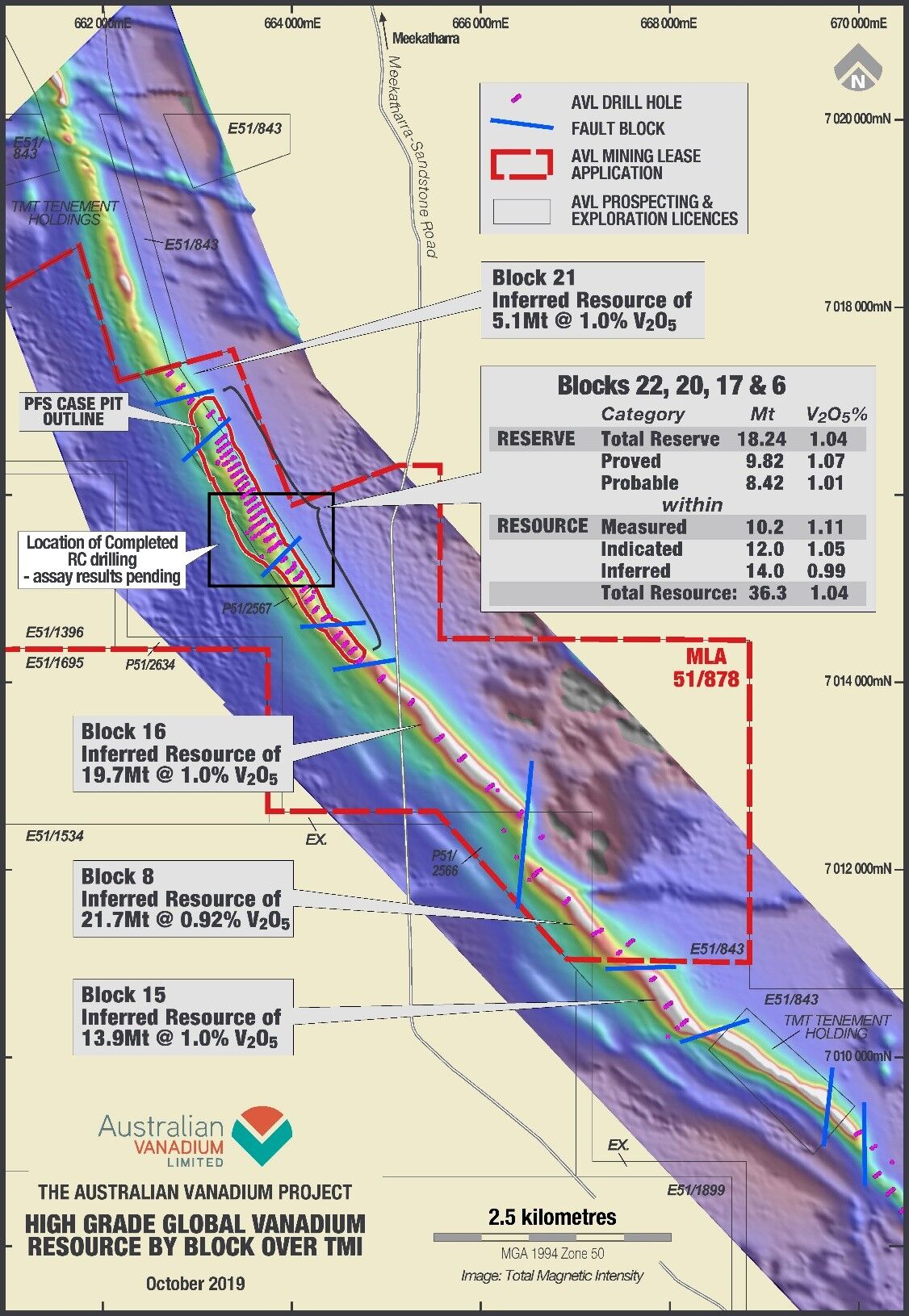 Total magnetic intensity showing location of completed drilling and mineral resources by major fault block 
Drill productivity during the program was high, with an average meterage of approximately 290 metres per shift. This efficiency translates into lower total drill costs, as ancillary costs due to personnel being in the field were lower. 
Drilling intercepted geological structures in four of the drill holes, as anticipated. Delineation of the orientation of major structures is required to model the zones of freshest material close to surface. 
Upon assay return and interpretation, a Mineral Resource update will be completed, including data from:
• RC drilling from late 2018 in fault block 6;
• RC pre-collar/Diamond tail drilling from January – April 2019 through fault blocks 17 and 20;and
• The 13 RC holes just completed. 
The Mineral Resource update will incorporate new structural knowledge and an estimation of magnetic susceptibility, which is a proxy for metal recovery during concentration of the ore through a magnetic separation circuit. 
Managing Director, Vincent Algar commented, "The small AVL team working with drilling company Precision Exploration Drilling Pty Ltd (PXD) has now undertaken one of several planned drilling programs to allow the Company to define additional Reserves which will help to demonstrate the global significance of the Project. The Company holds a significant strike position, with the potential to increase the Project's life considerably."
www.ferroalloynet.com