Evraz Q1 2019 Trading Update
Q1 2019 vs Q4 2018 HIGHLIGHTS
· In Q1 2019, EVRAZ' consolidated crude steel output climbed by 12.4% QoQ to 3.5 million tonnes,primarily as a result of higher pig iron production following the completion of capital repairs atEVRAZ ZSMK's blast furnace no. 3 at the end of Q4 2018. 
· Total steel product sales rose by 8.4% QoQ, driven by higher crude steel production. Sales of semifinishedproducts surged by 29.0%, primarily due to increased pig iron and crude steel output. Thiswas partly offset by a 2.7% reduction in sales of finished products, which was mostly attributable tolower sales of construction products in Russia and tubular and railway products in North America. 
· Production of raw coking coal remained flat QoQ. In Q1 2019, external sales volumes of coking coalproducts declined by 4.1% as coking coal concentrate sales subsided from the elevated levelsduring the longwall repositioning at Yuzhkuzbassugol's Uskovskaya mine in Q4 2018. 
· Sales of vanadium products fell by 5.3% QoQ, mainly due to a sharp decline of demand from the automotive industry and high stock levels at steel makers, accumulated during a period of sharp FeV price increase.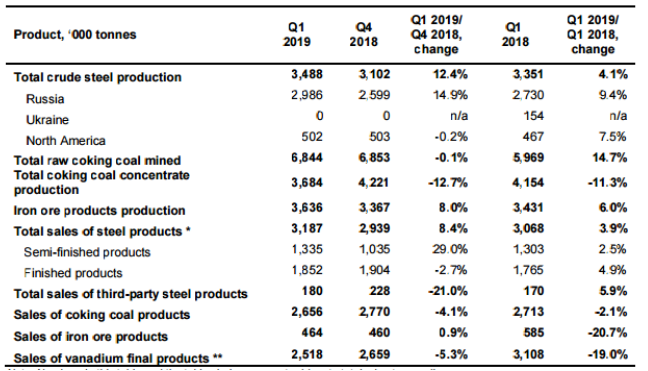 Note: Numbers in this table and the tables below may not add up to totals due to rounding.* Q1 2019 production and sales volumes of EVRAZ North America are preliminary in tonnes of pure vanadium 
EVRAZ is a vertically integrated steel, mining and vanadium business with operations in the Russian Federation, Kazakhstan, USA, Canada, Czech Republic and Italy. EVRAZ is among the top steel producers in the world based on crude steel production of 14 million tonnes in 2018. A significant portion of the company's internal consumption of iron oreand coking coal is covered by its mining operations. The company's consolidated revenues for the year ended 31 December 2018 were US$12,836 million, and consolidated EBITDA amounted to US$3,777 million.
www.ferroalloynet.com