Ferrovanadium Euro Price Keeps Jumping Since 2022
www.ferroalloynet.com: European price for ferrovanadium 70-80% jumped again on Wednesday which had reached the highest of 42.5- 43.5USD/kg since May 2019.  With the tight supply on vanadium raw material in South Africa and Brazil, ferrovanadium producers had to raise the price. Besides, the overall demands and inquires since February had expanded, which also drived the overall ferrovanadium European prices. As the escalating on Russian-Ukraine tension, UK government imposed sanctions on five Russian banks and three oligarchs. However, as the largest ferrovanadium producers in the world, Evraz didn't have any impact on the production yet but the shares got falling. As we know Evraz is a manufacturing and mining company listed in the UK, however, most of its operations are in Eastern Europe. According to Evraz, it sold 13288 tons of pure vanadium on vanadium final products in 2021, with a growth of 5.7% compared with that quantity of 12567 tons in 2020.
Regarding for European price of ferrovanadium, it kept rising since 2022, with the growth of 29.32% compared to the price on 5 January, 2022. The key reason for this price ascending is that the shrinking supply and increasing cost of vanadium raw materials since last quarter from the floods in Brazil and South Africa. Besides, the recovry and expanding demands in European and US market also drive the ferrovanadium price. At present, with the active inquires for ferrovanadium amid Russia-Ukraine tensions, ferrovanadium European price gets small gains on it.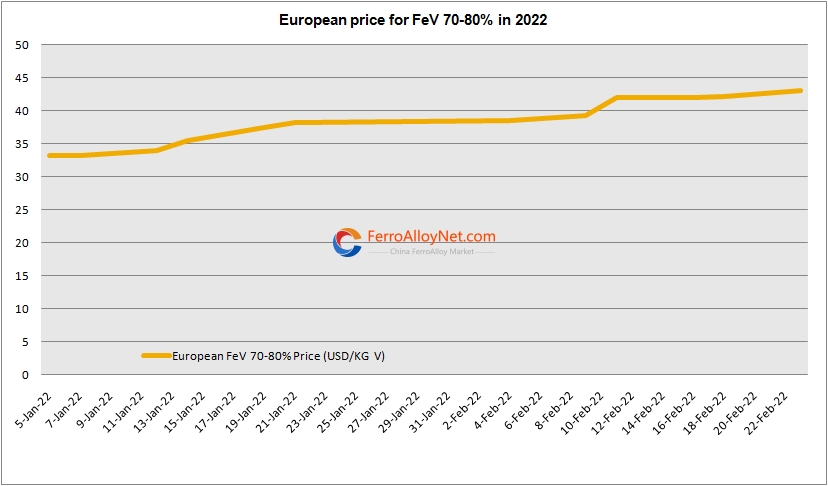 www.ferroalloynet.com