Shanghai Electric Successfully Delivered 100Kw/380Kwh Full Vanadium Liquid Flow Battery Energy Storage System To The Customer In Japan
The 100kW /380kWh all-vanadium liquid flow battery energy storage system has been successfully completed by Shanghai Electric (Anhui) Energy Storage Technology Co., Ltd. After the whole system test and the on-site acceptance of the owner, it will be shipped out of the port to Japan in the coming days to complete the project delivery.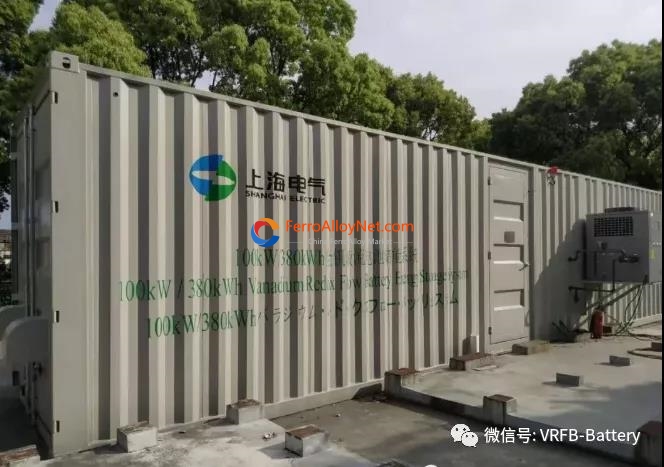 The project consists of an electrolyte circulation system, a battery system module, a power control module and a remote control system. The system is designed with a rated output power of 100kW and a rated capacity of 380kWh. It is a research demonstration project of Japan's distributed optical storage microgrid system. It adopts a set of standard container integrated system, through efficient control strategy, and integrates photovoltaic and energy storage system into unified management, so as to maximize photovoltaic energy consumption and improve system efficiency. The field test meets the user's requirements, and the operation is stable, and has been recognized by the user.
Japan is rich in renewable resources, so the all-vanadium liquid flow energy storage battery with longer life and higher safety is becoming more and more popular in the market. Compared with other energy storage batteries, the all-vanadium liquid flow energy storage battery has high safety, and the water electrolyte is not easy to catch fire or explode at room temperature and pressure. Second, it's environmentally friendly, easy to recycle and high residual value; Third, it's long life without attenuation, charging and discharging without attenuation, and the capacity can be restored online. Fourth, power capacity is independent and can be combined freely. After the project is put into operation, it will operate jointly with the local power station to participate in the auxiliary power market services of regional power grid peak regulation, frequency modulation, power grid demand response and so on, and jointly solve the problem of local wind and light abandoning, and improve the reliability and stability of the power grid.
The project is independently developed, designed and produced by the technical team of Energy Storage Company, which owns the core intellectual property rights. This delivery will play a good demonstration and lead role in opening Japan and more overseas markets, and it will be a beneficial exploration for the engineering and industrialization of the new generation of all-vanadium liquid flow battery technology.
www.ferroalloynet.com