Silver Elephant Receives Shareholder Approval Of Plan Of Arrangement
Silver Elephant Mining Corp. ("Silver Elephant", or the "Company") (TSX:ELEF)(OTCQX:SILEF)(FSE:1P2N) is pleased to report that all proposed resolutions were approved at the Company's special general meeting of shareholders held on December 22, 2021 (the "Meeting"). Voting results were as follows: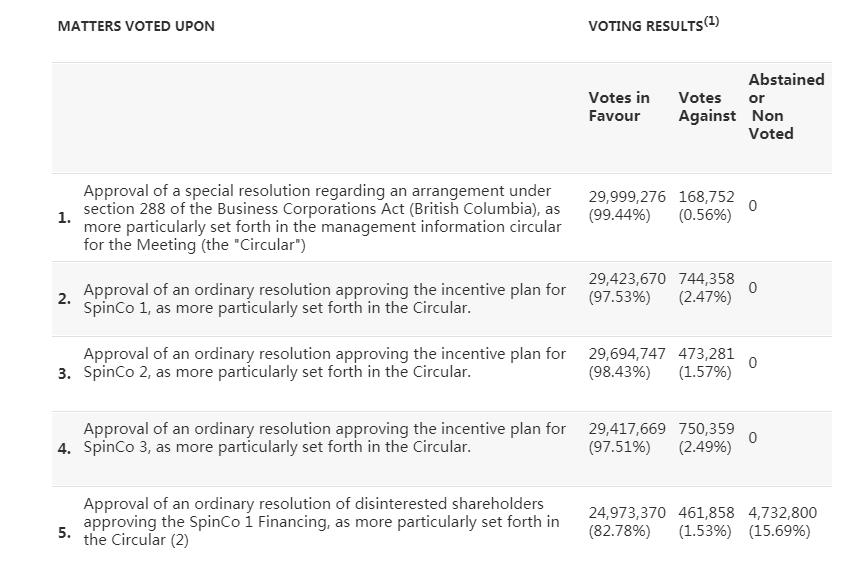 Notes
(1) A total of 150 shareholders were present in person or by proxy representing 30,168,028 shares at the Meeting.
(2) A total of 4,732,800 common shares held by interested shareholders were excluded from voting on the resolution.
On January 11, 2022, the Company will seek a final order from the Supreme Court of British Columbia approving the plan of arrangement, with a record date to be set right after the court approval in or around mid January (the "Record Date").
Each Silver Elephant share outstanding on the Record Date will be consolidated on the basis of one post-consolidation common share ("ELEF Share") for every ten pre-consolidation shares of Silver Elephant.
Each Silver Elephant shareholder will receive: one share of each of Flying Nickel Mining Corp. (Spinco 1) and Nevada Vanadium Mining Corp. (Spinco 2), and two shares of Battery Metals Royalties Corp. (Spinco 3) for every post-consolidation ELEF Share held by such shareholder on the Record Date.
Shareholders should review the Company's management information circular and letter of transmittal available at www.sedar.com and at www.silverelef.com for more information regarding the plan of arrangement.
About Silver Elephant Mining Corp.
Silver Elephant Mining Corp. is a premier mining and exploration company in silver, nickel, and vanadium.
www.ferroalloynet.com