Special Morgan report: Vanadium is up 300% since 2017 -This Vanadium Stock Stands to Reap Major Rewards.
In May, Prophecy Development (TSX: PCY: OTCQX: PRPCF) announced results of an independent preliminary economic assessment  (PEA) of its Gibellini vanadium project in Nevada.
This first look at the Gibellini's project, gave me the strong impression that Prophecy has potentially landed one of the best vanadium discoveries in recent times.
Gibellini has all the hallmarks of a future operating mine, and profitable one at that. The project is located near State Highway 37, and has access to water and power. The mineral deposit forms a gently sloping hill, and has a very low strip ratio (amount of necessary waste rock removal). Prophecy has video footage of Gibellini on its website.
I was told by Prophecy's geologist that Gibellini rocks have been through long-term extensive thermal alteration events that caused well oxidized and mobilized mineralization, which is readily soluble in low consumption acid. This means that only small acid volumes are needed for processing, and therefore will be a significant factor in allowing for low operating costs.
In layman's terms, this will likely be extraordinarily easy to process, which means lower cost and more profit.
For the serious resource investor, let's discuss the Preliminary Economic Assessment (PEA) further. The full results can be obtained directly from Prophecy websitehttps://www.prophecydev.com/projects/gibellini-vanadium/, but here are the highlights:
This study was prepared by the Amec part of Wood Group, a global engineering firm that trades on the London Stock Exchange, with a 5 billion British pound market capitalization.
The Project boasts an after-tax Internal Rate of Return (IRR) of 69%- Robust by any measurement.
This project has a Net Present Value (NPV) of $568 million at $16.55 vanadium. Today vanadium trades at $16.9. Using $16.9, the mine stands to generate over $150 million in annual revenue and $100 million in pre-tax operating cash flow, once operations get underway.
It's hard to recall the last time I came across a project where the capex is 1/4 of the Net Present Value, with a payback of about 1.3 years at the current metals' price.Certainly, value investors get very excited when they can determine these types of under-valued situations, especially if they are in a real asset.
Prophecy Development has only about 8 million shares outstanding and trades at CAD 21 million market capitalization.
This is less than the money that was invested by previous owners of the property-in drilling, metallurgical testing and permitting to develop Gibellini in the past decade. I like undervalued situations, which again means value investing!
When the story was first published in The Morgan Report members in May 2018, the main question was how the company was going to pay for the estimated $120 million capital expenditure?
See excerpt from Morgan Report here…
www.themorganreport.com/pdf/may2018themorganreport-vanadiumexcerpt.pdf
One Critical Key: is the current vanadium price an anomaly, or is it a sustainable trend?
Three-year vanadium pentoxide price chart: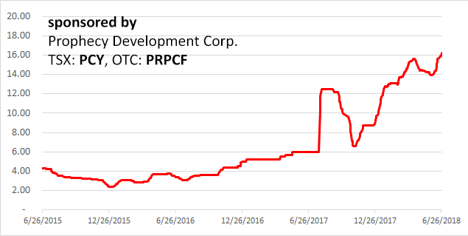 You see vanadium has gone up 500% since the bottom in 2015. It's all about supply and demand; and in vanadium's case, it's been a steady decrease in supply due to environmental restrictions and mine depletion. During the same time-frame, demand has increased.
Roughly 90% of vanadium goes to strengthening steel, the remaining 10% for aerospace, chemicals, and utility batteries.
In late 2017, China issued new steel reinforcement bar (Rebar)standards to fend off floods and earthquakes. They required a doubling of vanadium content in the steelused for every-day high-rise construction.
Given that China accounts for 30 to 40 percent of global vanadium use, vanadium price doubled within a week, as global end users scrambled to secure supply, snatching up all above-ground inventories (of which there was admittedly not muchto begin with). Chinese rebar upgrade alone would account for 10 to 20 percent increase in total global vanadium consumption.
The other two vanadium application segments are just as promising: aerospace and utility-scale batteries. Because of their light weight and high tensile strength, Vanadium-titanium alloys are required for every airplane engine blade and are used in missile and spacecraft propulsion systems. There is a direct correlation between increased air travel and a growing middle class, with China and India, which account for 40% of the world population.
There is the possibility of exponential growth of large-scale vanadium batteries required for the huge wind and solar farms globally. Europe already is sourcing 30 percent of its electricity from renewables. Vanadium redox flow batteries are fully recyclable. No wonder the billionaire legendary mining magnate, Robert Friedland, is investing in vanadium and touting vanadium as a miracle metal.
Trying to forecast long-term vanadium demand can be difficult – because as you know – prices that rise can also fall -but let us revisit steel rebar. Vanadium and its rebar substitute, niobium, hold the key to providing safe air travel, and safe urban housing for the future. We will need more vanadium, not less, going forward.
On the supply side
China produces 60% of the world's vanadium, with South Africa (11%) and Russia (11%) coming in a distant second and third.
Roughly half of Chinese production (or about 30% of global supply) used to be destined for export to Europe, Asia, and North America. That export quantity is fast disappearing as there is now little vanadium left in China for rebar blending after domestic vanadium consumption.
With 30% of supply gradually withdrawing from the market, that leaves Glencore (which controls the vanadium offtake from South African producers, and Brazil's Largo Resources) as the only vanadium suppliers.
Prophecy has indicated they receive calls weekly from Asia, Turkey, and the Middle East—and even from a reputable billion-dollar steel company in Russia—asking for vanadium.
In doing this research, I cannot find another vanadium mine that could bring new vanadium supply to market within 3 years. Price action brings effort to provide new supply, which means there may be some more vanadium "plays" but I wouldn't hold out hopes for a significant new vanadium stream in the near future.
How high do vanadium prices need to be to stimulate supply and deter demand? I don't know, but it could be similar to the uranium situation of 2006 where uranium prices zoomed from $5 a pound to over $100 a pound in 2 years.
Let's explore the important points further:
How long would it take to permit Gibellini, and what will it take? (The US Geological Survey in December 2017 named vanadium as a critical metal.)
The US gets 99% of its supply from abroad (read: from the Chinese and from Glencore). In December 2017, President Trump issued an executive order requiring government agencies to expedite permitting for critical metal deposits in the US.
Which means that while it used to take a decade to permit a mine in the US, it can now be done in half the time? And because Gibellini had already submitted its environmental baseline studies (a multi-year study of sage grouse, raptors, water, air, agriculture, archaeological, etc.) in May 2018, the Company is on track to submit a final Environmental Impact Statement (EIS) application in 2019 and, upon EIS approval, start construction in 2020.
This timeline is consistent to the new government orders, whereby EIS must be adjudicated within 12 months. The Company is aiming for its first vanadium product delivery in 2021-whereas other vanadium explorers in the US and Canada have yet to begin their baseline studies.
Now the most critical question investors must ask…
How does a $20 million company like Prophecy get $120 million to build a mine less than 2 years? I spoke directly with Prophecy Chairman Mr. John Lee by phone last week while he was at the airport in transit from Asia to Europe. Here is what he said:
"Prophecy's Gibellini is a pure cash-flow story. The Company is on track to deliver vanadium in 2021, massively and profitably. That is only 36 months away.Cobalt27 just announced it is paying Vale $300 million in advance for the right to buy 2 million pounds of cobalt per year starting in 2021 with an 80% discount from the market price. At $40 cobalt, Cobalt27 pays $300 million today for $60 million annual cash flow 3 years from now. This is called streaming. Streaming is a simple model, easy to understand, and popular with investors.
We are studying a streaming deal for Gibellini that is similar to the Cobalt27–Vale transaction, whereby Prophecy will receive the a lump sum up front payment to cover the construction costs, and investors will be entitled to buy a portion of Prophecy's Gibellini production at a substantial discount. We believe our deal can offer a superior return to that of the Cobalt27–Vale deal,  given Gibellini's low capital requirement and exceptional operating margin of 70%+ at current vanadium prices.
We are in the 90210, in terms of mining friendly jurisdictions in North America. As Prophecy gets closer and closer to full permitting status, streamers like Silver Wheaton and Franco Nevada will have to take notice. We are patient, debt-free and have strong shareholder backing, in order to fund our day to day operation."
In the absolute "best case" scenario Prophecy could preserve its current share structure and deliver first vanadium revenue and profit in just 3 years' time.
What would be the fair price for Gibellini?
Amec outlined a good case for $568 million (NPV@7% discount and $16.55 vanadium) in its 256-page study. Largo Resources (assets in Brazil), which is the only vanadium producer listed on a North American stock exchange, traded last week at about $1 billion in enterprise value. It generated over $60 million of operating cash flow in Q1 of 2018.
Is Gibellini a baby Largo? With 10 million pounds of forecast production in 2021 by comparison with Largo's 20 million pounds forecast production in 2018? Interestingly, half of Largo's market cap closely matches Gibellini's $568 million NPV.
This is one of the most undervalued situations I have seen in quite some time.  All of this information has been made available to The Morgan Report membership. Since I am a shareholder, if I see a huge takeout or a significant quarterly dividend, there will be no complaints.
I have a hunch that Mr. Lee (who already owns 16% of Prophecy) sees things the same way. Since the PEA announcement, he has bought 50,000 shares in the open market and 100,000 shares through private placements. That's a cool $400,000+.  As they say, insiders sell for a variety of reasons, but they only buy for one…
David Morgan
Founder: TheMorganReport.com
Full disclosure: I am a Prophecy shareholder. Morgan Report received US 15,000 to cover Gibellini site visit expenses in March 2018.
About Prophecy Development Corp.
Prophecy Development Corp. is a Canadian public company listed on the Toronto Stock Exchange. The Company aims to provide exposure and leverage to rising vanadium prices by defining and adding attributable vanadium resources in the ground in politically safe jurisdictions. Further information on Prophecy can be found at www.prophecydev.com.
For more information about Prophecy, please contact us at:
+1.604.563.0699
+1.888.513.6286
ir@prophecydev.com
www.prophecydev.com
Disclaimer
You are receiving this message because you have specifically subscribed to our list. If you'd rather not receive emails from us, reply with subject unsubscribe. Remember, your personal information will never be rented or sold and you may unsubscribe at any time. Advertisements above do not constitute endorsements from us of any stock or investment recommendation made by our advertisers.
Warnings and Disclaimers: As you know, every investment entails risk. We have not researched and cannot assess the suitability of any investments mentioned or advertised by our advertisers. We recommend you conduct your own due diligence and consult with your financial adviser before entering into any type of financial investment. This profile should be viewed as a paid advertisement. The publisher and staff of this publication may hold positions in the securities of companies discussed or recommended. The information contained herein has been received from sources which the publisher deems reliable. However, the publisher cannot guarantee that such information is complete and true in all respects. The advertiser provided a review of the factual content of this advertisement at the time of publication. The publisher is not a registered investment adviser and does not purport to offer personalized investment related advice; the publisher does not determine the suitability of advice and recommendations contained herein for any reader. Each person must separately determine whether such advice and recommendations are suitable and whether they fit within such person's goals and portfolio. The advertiser featured  has paid the publisher for the costs and compensation related to the authorship, overhead, design and distributing this online edition, in the amount of between US 1,000 to US 7,500. The publisher may receive revenue, the amount of which cannot be predetermined, from sales resulting from any accompanying offer. Authors of articles contained herein may have been compensated for their services in preparing such articles.