Date: Oct 23, 2018
It's no longer a technological maybe. Vanadium is here, and the lithium sector should be concerned.
Forget everything you think know about the looming $13-billion energy storage market by 2025. You can even forget everything you know about renewable energy, and the batteries behind the electric vehicle revolution.
Right now, the future is about Element 23, and it may be bigger than anything the energy industry has seen—ever.
It's the key ingredient to flow batteries that run on "liquid electricity". It's the evolution in the revolution.
They won't replace the small battery lithium market…
Instead, they'll do all of the things lithium can't do in the large battery market. We're talking about giant new batteries the size of a shipping container that is expected to form the new backbone of the world's electric power grid—residential, commercial and industrial.
Element 23 is vanadium …
Its price has more than doubled in the past year and supply is getting tighter by the day.
And one little-known explorer in Colorado has just unearthed a potential huge vanadium reserve.
United Battery Metals (CSE:UBM, OTC: UBMCF) is potentially poised to be the only U.S. source of this most precious of rare earth metals.
Welcome to the Wray Mesa Project in Montrose County, Colorado, where UBMCF is sitting on a massive estimated reserve of 2.7 million pounds of vanadium (along with over 500,000 tons of uranium as a bonus). (Source 43-101 report authored by Anthony Adkins in 2013.)
That may mean an American source of the rare earth metal powering the "liquid electricity" breakthrough. It makes the electric vehicle push look like child's play. It doesn't get any more strategic than this.
Here are 5 reasons to keep a close eye on United Battery Metals (CSE:UBM, OTC: UBMCF) as the next battery revolution begins:
#1 Billionaire Miners, World Leaders Swarming on Vanadium
It's impossible to talk about vanadium without talking about Robert Friedland.
The legendary mining billionaire and recipient of the 2017 Northern Miner's Lifetime Achievement Award knows vanadium is revolutionary, evolutionary and very likely a game changer in energy.
He talks of the coming revolution in vanadium redox flow batteries. He talks about the necessity of producing ultra-pure vanadium electrolyte for batteries "on a massive scale".
"The beauty of the vanadium redox battery is that you can charge and discharge it at the same time, something that can't be done with a lithium battery. With a vanadium redox flow battery, you can put solar power and wind power into the battery, and you can put excess grid power into the battery at night, and at the same time you can have a stable output into the grid."
For Friedland, vanadium changes … everything. And he has put his money where his mouth is. Friedland is a chairman at Beijing-based Pu Neng, which was recently awarded a contract to build the largest vanadium flow battery in China.
Vanadium also enjoys massive political support. In fact, Vanadium is the single thing that Obama and Trump can agree on.
After all, Vanadium isn't just any rare earth element, it's an element of strategic interest and national security significance. (Think: one-upping China on energy and technology. Think: defense.)
Obama said "vanadium redox fuel cells" was "one of the coolest things I've ever said out loud".
First developed by NASA for aerospace applications, vanadium redox fuel cell batteries now have a much bigger—and broader—future. There's been an explosion in manufacturing, and the market isn't prepared for it.
And late last year, Trump signed an executive order to develop a federal strategy to ensure "secure and reliable supplies" of critical minerals, including vanadium because the U.S. is reliant 100 percent on imports of these minerals.
So, a potential discovery of the rarest and most critical metal of all in Colorado won't just be on the radar of legendary billionaire investors. It will be on the Pentagon's radar.
#2 Vanadium Is The Missing Link That's Just Been Found Right At Home
Batteries for phones, laptops, even EVs … that's small-time. The big-time is this: batteries that can store energy and power entire cities and everything in between.
But even the smaller-time applications of vanadium will rock investor worlds. Vanadium redox batteries ("VRB") like Cellcube will be used in car-charging stations worldwide. Cellcube's batteries are already installed in 130 places across 24 countries—and counting and United Battery Metals (CSE:UBM, OTC: UBMCF) is hoping to capitalize on growing demand.
There are the Tesla batteries acting as backup for a wind farm in Australia. There's PG&E building the world's biggest battery in California to store electricity for its grid. And there's the $3 billion project to turn the Hoover Dam into one big battery.
And it doesn't hurt that the State of California has just announced that all homes and mid-rises must have solar panel batteries. That means every single house and building will need power-storing batteries, and VRB is probably the best solution.
And when the rest of the states start to follow suit, VRB demand should be explosive.
When it comes to energy storage, bigger is better—no contest. It's possible because vanadium flow batteries store their energy in tanks. The fluid (electrolyte) that transfers charges inside a battery flows from one tank through the system and back again, making a closed circuit. They can charge and discharge simultaneously.
We're talking tanks that can be as big as you want them: an aquarium, a shipping container or even an Olympic swimming pool—as big as your imagination can take you.
For renewable energy it is a game-changer. VRBs will forever change the storage capacity of wind and solar energy, making them more reliable and cheaper.

Vanadium is superior to lithium in so many ways.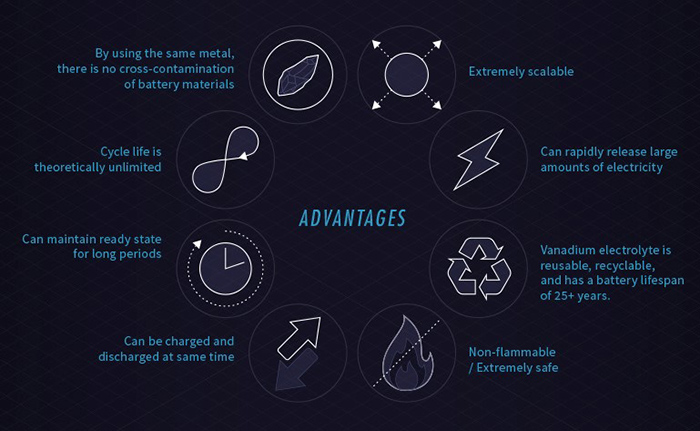 – Its longevity is infinite
– It's not explosive, flammable or toxic (no corrosive salts that come with lithium)
– Not only can it be scaled up cheaply, but it's actually cheaper to scale it up, making it the antithesis of lithium
This last point, and the real kicker is this: Vanadium batteries are already providing complete energy storage systems for $500 per kilowatt hour. In less than a year, that should be down to $300. By 2020, we should be looking at $150/kilowatt hour. Cost-reduction comes fast and years before a lithium-ion battery Gigafactory can get that down.