Vanadium Miners Movement in February 2021
In February there are several big events for vanadium miners. Belows are the details:
1. Glencore [LSX:GLEN] [HK:805] 
Glencore is a large vanadium producer, but vanadium production represents only a small portion of their revenue.
On February 3, Glencore announced: "Full Year 2020 production report."
It shows Glencore 2020 Ferrochrome production of 1,029kt, down 28% on 2019 and 2020 Vanadium pentoxide production of 19.5 mlb,equels to 8845 tons.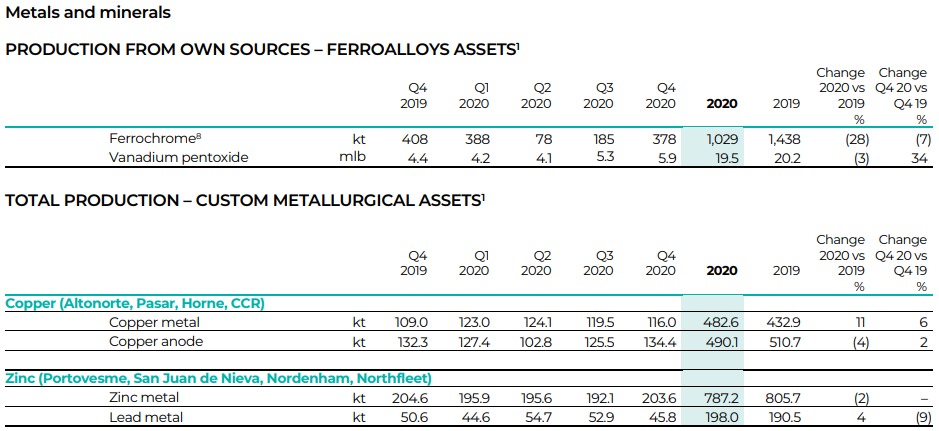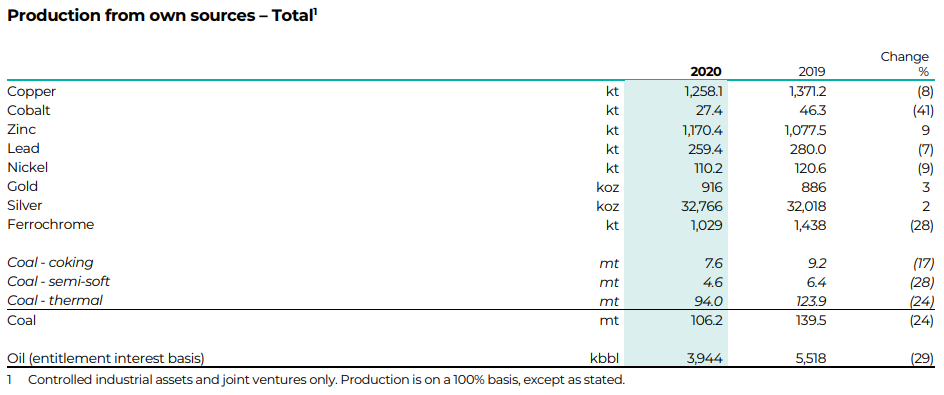 2. AMG Advanced Metallurgical Group NV [NA:AMG] [GR:ADG] 
AMG Vanadium is a leading provider of products and services for the metals, manufacturing, refinery and petrochemical industries. AMG Vanadium produces ferrovanadium and related ferroalloys from spent refinery catalysts using a proprietary pyrometallurgical process.
On February 24, AMG Advanced Metallurgical Group announced:
AMG Advanced Metallurgical Group N.V. reports full Year and fourth quarter 2020 results. AMG Advanced Metallurgical Group N.V. reported fourth quarter 2020 revenue of $253.5 million, a 6% decrease from $268.6 million in the fourth quarter of 2019. EBITDA for the fourth quarter of 2020 was $22.5 million, in line with the fourth quarter of 2019 of $22.8 million…..These market price improvements accelerated in early 2021, particularly in ferrovanadium and lithium. AMG Technologies experienced ongoing lower results associated with weakness in the aerospace sector, however, it is important to note that AMG Engineering's order intake in 2020 exceeded $200 million for the year.
3. Bushveld Minerals Limited [LN- AIM:BMN] 
Bushveld is a diversified AIM-listed resources company with a portfolio of vanadium, tin and coal assets in Southern Africa and Madagascar.

On February 4, Bushveld Minerals Limited announced: "Vametco Mineral resources and reserves update."

On February 4, Bushveld Minerals Limited announced: "Q4 and full year 2020 operational update." Highlights include:

Bushveld Vanadium

"12M 2020 Group production of 3,631 mtV was 24 per cent higher than 12M 2019 (12M 2019: 2,931 mtV), primarily as a result of the inclusion of Vanchem's production for the full 12-month period, partially offset by impact of the nationwide lockdown in South Africa during H1 2020. Production was marginally lower than 2020 guidance of between 3,660 mtV and 3,940 mtV (less than one per cent)…
Q4 2020 Group production of 951 mtV was seven per cent below Q3 2020 production (Q3 2020: 1,019 mtV), mainly due to unplanned maintenance stoppages at both operations and severe weather conditions…"

Bushveld Energy

Electrolyte

"During the year Bushveld Energy successfully established Bushveld Electrolyte Company ("BELCO") as the operational company for the electrolyte business. The Engineering phase of the Engineering Procurement Construction ("EPC") process was completed in Q4 2020. The procurement process will commence in Q1 2021 followed by construction."

Financial Highlights

"The Group successfully completed and drew down the US$65 million financing package with Orion Mine Finance ("Orion") to fund capital projects as well as partially retire existing debt facilities.
Unaudited Group cash and cash equivalent as at 31 December 2020 was approximately US$50.5 million, compared to US$34.0 million on 31 December 2019…

2021 Guidance and Capital Expenditure

Bushveld Vanadium

"Estimated Group production of between 4,100 mtV and 4,350 mtV in 2021, a 13 per cent to 20 per cent increase relative to 2020, with volumes weighted towards the second half due to a 35-day maintenance shutdown at Vametco during Q1 2021…"

On February 8, Bushveld Minerals Limited announced: "Q4 and FY2020 operational update – correction."

You can view the latest investor presentation here.

4. Largo Resources [TSX:LGO] [GR:LR81] 

Largo Resources is a pure-play vanadium pentoxide producer from their Maracás Menchen mine in Brazil.

On February 8, Largo Resources announced:

Largo Resources announces full repayment of its outstanding debt… The Company completed the prepayment of $24.8 million in aggregate principal amount between the dates of January 29 and February 3, 2021, plus accrued and unpaid interest and all exit fees which were paid at a lower rate than the scheduled interest payable to the end of the maturity dates.

You can view the latest investor presentation here.

5. Ferro Alloy Resources [LON:FAR]
FAR is developing the giant Balasausqandiq vanadium deposit in Kyzylordinskaya Oblast of southern Kazakhstan. FAR state: "The ore at this site has a significantly higher grade than all other primary vanadium extraction sites, which allows for much lower processing costs."

On January 26, Ferro Alloy Resources announced: "Vanadium market analysis." Highlights include:

"….As global steel production recovers following COVID-19 and the specific vanadium consumption rate in China continues to move up on the back of growing use of vanadium in rebar we expect that in 2021 global consumption will grow to 118,000 MTV.
Global production of vanadium will grow moderately in 2021 to 113,000 MTV.
In summary we expect global vanadium consumption to outstrip production by more than 5,000 MTV in 2021."
6. Technology Metals Australia [ASX:TMT]

The company's primary exploration focus is on the 100% owned Gabanintha Vanadium Project located 40km south east of Meekatharra in the mid-west region of Western Australia.

On January 27, Technology Metals Australia announced: "Quarterly activities report & Appendix 5B for the quarter ending 31 December 2020." Highlights include:

"Yarrabubba Iron-Vanadium Project sighter testwork delivers high grade iron-vanadium concentrate containing a weighted average 64.3% Fe and 1.71% V2O5 at a 32 micron grind size.
Premium high purity product confirmed with very low levels of deleterious elements, indicating scope for a Platts 65 product.
Diagnostic testwork demonstrated viabiltiy of a high grade titanium product….generating grades up to 48.5% TiO2 for MASFR1 and 48.4% TiO2 for MASFR2.
Engagement with Sinosteel progressed with technical co-operation agreement executed to jointly advance Yarrabubba metallurgical testwork and flowsheet design.
Gabanintha a Environmental Review Document on track for targeted submisison to the EPA in the current quarter.
Offtake and project development partner engagement progressed, enhanced by the emergence of the two additional potential product streams from Yarrabubba.
Vanadium prices strengthened as a result of the tight supply – demand balance in China and expected growth in global economic activity supported by COVID-19 recovery stimulus.
Placement and SPP completed raising a combined $8.7 million (pre costs), with the continued support of strategic domestic and international investors. Funds to be applied to development activities at Yarrabubba and progressing ERD at Gabanintha.
As at the end of December 2020 the Company had cash of $9.5 million. As at 25 January 2021 the Top 20 shareholders held 47.6% of the fully paid ordinary shares."

On February 3, Technology Metals Australia announced: "Premium high-grade iron–vanadium product confirmed."

7. TNG Ltd. [ASX:TNG] [GR:HJI]  

TNG is an Australian resources company focused on the evaluation and development of its Mount Peake Vanadium-Titanium-Iron project. The Mount Peake Project is located 235km north-northwest of Alice Springs in the Northern Territory of Australia. TNG Ltd is well advanced with a massive $4.7b NPV8%, but relies on titanium and iron with a lower grade vanadium by-product.

On February 1, TNG Ltd. announced:

TNG submits supplement to the environmental impact study for its Darwin Tivan® processing facility. Submission of EIS Supplement marks another major step towards finalisation of the permitting requirements for development of the world-scale mount peake vanadium-titanium-iron project.

On February 4, TNG Ltd. announced: "Lapse of NED rights."

You can view the latest investor video presentations here.

8. Vanadium Resources Limited [ASX:VR8]

Vanadium Resources is a junior exploration company established with the purpose of exploring and developing gold zinc, lead, copper and other mineral opportunities. Vanadium Resources owns 74% of a globally significant vanadium project, the Steelpoortdrift [SPD] Project, in Gauteng Province, South Africa.

On January 29, Vanadium Resources announced: "Activities report – December quarter 2020." Highlights include:

"Funding secured to provide the Company with financial means to commence with a Pre-Feasibility Study [PFS] to advance its world class Steelpoortdrift vanadium project (Project).
Including cash reserves (as at 31 December 2020), the Company has approx. A$957,400 of financial means available to advance the Project.
Board changes made to assist in completing the PFS and to achieve the Company's goals.
Stable trading in the vanadium market continues with demand increasing, long term demand for vanadium and vanadium products remains strong.
Consideration for the divestment of 100% owned Quartz Bore project in the Pilbara, Western Australia."

You can view the latest investor presentation here.
www.ferroalloynet.com