Vanadium Moonshot by Steve Saville
Vanadium Moonshot


In January of this year we wrote:
"At the present time more than 90% of the world's production of vanadium is used in steel alloys. This particular use of vanadium could grow due to, for example, China's government imposing new regulations requiring the use of stronger steel reinforcement bar (rebar) in concrete structures, but our interest in vanadium isn't related to its use as a steel strengthener. Our interest stems from the possibility that the consumption of vanadium will grow rapidly over the next several years due to the increasing popularity of Vanadium Redox Batteries (VRBs).
VRBs are heavy and bulky, so they can't be used in EVs [electric vehicles]. However, they are well suited for grid-level energy storage. This is because a) their energy capacity is only limited by the size of their storage tanks, b) they can be completely discharged for long periods with no performance degradation, c) they experience almost no capacity degeneration over time, and d) they are very stable."
The interest in VRBs is ramping up and so, as illustrated by the following two charts, is the vanadium (V2O5) price. The first chart covers the past three years and shows that the price is up from around $7/pound at this time last year to around $25/pound today. The second chart extends back to 1980 and shows that the current price roughly matches the all-time high achieved in 2005.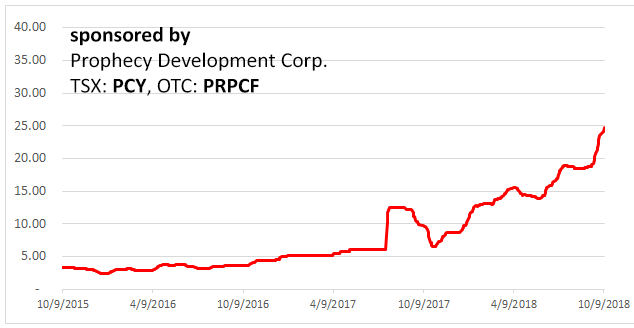 Unlike vanadium's surge to around $25/pound in 2005, the current surge should have staying power. There will, of course, be a substantial correction at some point, but we expect that the V2O5 price will make higher highs and higher lows over the coming few years. The difference is the progress that has been made with the development of VRBs and the perceived need for efficient grid-level energy storage to make 'clean' power generation more feasible.
Prophecy Development Corp. (PCY.TO), a member of the TSI Small Stocks Watch List, offers exposure to vanadium via its Gibellini project in Nevada. Based on a PEA completed earlier this year, Gibellini's economics were very positive (51% IRR) at around half the current vanadium price.
Despite its leverage to the vanadium price, for a while it looked like PCY was going to sit out the entire vanadium rally. However, the stock has suddenly started to draw some attention and has tripled in price — from a very low level — over the past two weeks.
PCY had very significant news on Wednesday. It announced that Gerald Panneton had been recruited as President and Chief Executive Officer, replacing John Lee who will remain as Chairman of the Board. Mr. Panneton is the founder of Detour Gold, a mid-tier gold producer, and was Detour's CEO from 2006 to 2013. This constitutes a major strengthening of the management team and should elevate the company's profile.
PCY is clearly 'overbought' on a short-term basis, but its valuation is very low. Its C$28M market cap (78M shares at C$0.35/share) is a small fraction of the current NPV of the Gibellini project.
Disclaimer
You are receiving this message because you have specifically subscribed to our list. If you'd rather not receive emails from us, reply with subject unsubscribe. Remember, your personal information will never be rented or sold and you may unsubscribe at any time. Advertisements above do not constitute endorsements from us of any stock or investment recommendation made by our advertisers.
Warnings and Disclaimers: As you know, every investment entails risk. We have not researched and cannot assess the suitability of any investments mentioned or advertised by our advertisers. We recommend you conduct your own due diligence and consult with your financial adviser before entering into any type of financial investment. This profile should be viewed as a paid advertisement. The publisher and staff of this publication may hold positions in the securities of companies discussed or recommended. The information contained herein has been received from sources which the publisher deems reliable. However, the publisher cannot guarantee that such information is complete and true in all respects. The advertiser provided a review of the factual content of this advertisement at the time of publication. The publisher is not a registered investment adviser and does not purport to offer personalized investment related advice; the publisher does not determine the suitability of advice and recommendations contained herein for any reader. Each person must separately determine whether such advice and recommendations are suitable and whether they fit within such person's goals and portfolio. The advertiser featured  has paid the publisher for the costs and compensation related to the authorship, overhead, design and distributing this online edition, in the amount of between US 1,000 to US 7,500. The publisher may receive revenue, the amount of which cannot be predetermined, from sales resulting from any accompanying offer. Authors of articles contained herein may have been compensated for their services in preparing such articles.