Vanadium Moonshot


In January of this year we wrote:
"At the present time more than 90% of the world's production of vanadium is used in steel alloys. This particular use of vanadium could grow due to, for example, China's government imposing new regulations requiring the use of stronger steel reinforcement bar (rebar) in concrete structures, but our interest in vanadium isn't related to its use as a steel strengthener. Our interest stems from the possibility that the consumption of vanadium will grow rapidly over the next several years due to the increasing popularity of Vanadium Redox Batteries (VRBs).
VRBs are heavy and bulky, so they can't be used in EVs [electric vehicles]. However, they are well suited for grid-level energy storage. This is because a) their energy capacity is only limited by the size of their storage tanks, b) they can be completely discharged for long periods with no performance degradation, c) they experience almost no capacity degeneration over time, and d) they are very stable."
The interest in VRBs is ramping up and so, as illustrated by the following two charts, is the vanadium (V2O5) price. The first chart covers the past three years and shows that the price is up from around $7/pound at this time last year to around $25/pound today. The second chart extends back to 1980 and shows that the current price roughly matches the all-time high achieved in 2005.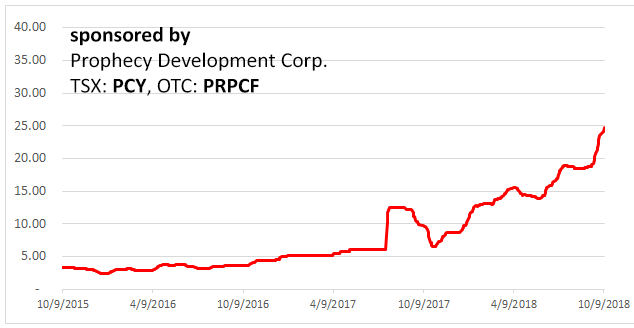 Unlike vanadium's surge to around $25/pound in 2005, the current surge should have staying power. There will, of course, be a substantial correction at some point, but we expect that the V2O5 price will make higher highs and higher lows over the coming few years. The difference is the progress that has been made with the development of VRBs and the perceived need for efficient grid-level energy storage to make 'clean' power generation more feasible.
Prophecy Development Corp. (PCY.TO), a member of the TSI Small Stocks Watch List, offers exposure to vanadium via its Gibellini project in Nevada. Based on a PEA completed earlier this year, Gibellini's economics were very positive (51% IRR) at around half the current vanadium price.
Despite its leverage to the vanadium price, for a while it looked like PCY was going to sit out the entire vanadium rally. However, the stock has suddenly started to draw some attention and has tripled in price — from a very low level — over the past two weeks.
PCY had very significant news on Wednesday. It announced that Gerald Panneton had been recruited as President and Chief Executive Officer, replacing John Lee who will remain as Chairman of the Board. Mr. Panneton is the founder of Detour Gold, a mid-tier gold producer, and was Detour's CEO from 2006 to 2013. This constitutes a major strengthening of the management team and should elevate the company's profile.
PCY is clearly 'overbought' on a short-term basis, but its valuation is very low. Its C$28M market cap (78M shares at C$0.35/share) is a small fraction of the current NPV of the Gibellini project.