Vanadium One Iron Reports an After Tax NPV of C$1.7 Billion and IRR of 33.8 Percent in Its Preliminary Economic Assessment for the Mont Sorcier Iron and Vanadium Project
Highlights:
Annual production targeted at approx. 5.0 million tonnes of high grade, low impurity, iron concentrate grading ~65% iron with 0.6% V2O5 per tonne of concentrate
Initial Capex C$457.5 million
Payback period of 3.0 years
Current Mineral Resource Estimate supports a potential mine life of 37 years
Total Site Operating costs of C$52.38/t of concentrate over potential LOM
Upside potential from resource expansion and the potential to expand production
Vanadium
 One Iron Corp. ("Vanadium One" or the "Company") (TSXV:VONE), is pleased to announce the results of its Preliminary Economic Assessment ("PEA") at its Mont Sorcier iron and vanadium project located near Chibougamau, Quebec. The PEA was completed by independent consulting group CSA Global Consultants Canada Ltd. ("CSA Global") an ERM Group Company.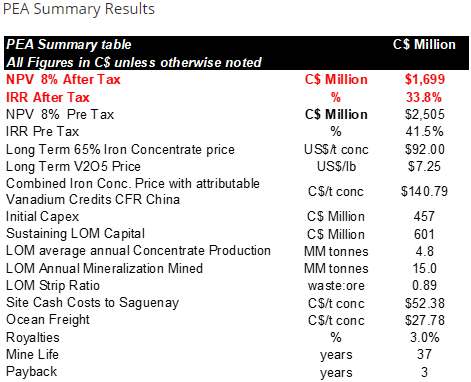 The PEA for Mont Sorcier was based upon the Mineral Resource Estimate outlined in the company's most recently released National Instrument 43-101 Technical Report dated April 23, 2019. The PEA outlines a robust economic assessment for Mont Sorcier, based on a traditional open pit mining scenario with magnetic separation processing to produce approximately 5.0 million tonnes per annum of vanadium rich iron concentrates, with low levels of impurities. Based on test work to date, this material is amenable for direct blast furnace route use.
Cliff Hale-Sanders, President and CEO of Vanadium One Iron commented "We are very pleased that the results of the PEA support our vision for the potential of the Mont Sorcier project to be a profitable, long-life operation. Located in an established mining region, Mont Sorcier has strong access to infrastructure already in place; which reduces upfront capital requirements, and with the production of premium 65% high grade iron concentrate with vanadium credits, we believe these characteristics position Mont Sorcier as one of the premier iron development projects in the world.
Based upon the results of the PEA, the Company is confident in its ability to improve the economics of this initial PEA through improved resource definition and growth, ongoing project optimization efforts and further metallurgical test work to enhance product quality even further. Going forward the company will now focus on developing strategic partnerships to complete a Feasibility Study to bring Mont Sorcier to a formal development decision as quickly as possible."'
The PEA was prepared by CSA Global incorporating contributions from Vulcan Technologies for the Iron and Vanadium Market Pricing Study. The PEA is preliminary in nature, as it includes Inferred Mineral Resources that are considered too speculative geologically to have the economic considerations applied to them that would enable them to be categorized as Mineral Reserves, and there is no certainty that the preliminary economic assessment will be realized.
Project Summary
Mont Sorcier is located approximately 18 km east of Chibougamau, Quebec, in a region with a long history of mining and robust infrastructure in place to support future development. Mont Sorcier has access to all season roads, low cost provincial hydro power and is within 20km of the rail head connected to two all season, ocean going ports. The railway runs approximately 370 km to the Port of Saguenay and is currently underutilized, providing sufficient capacity for the project needs.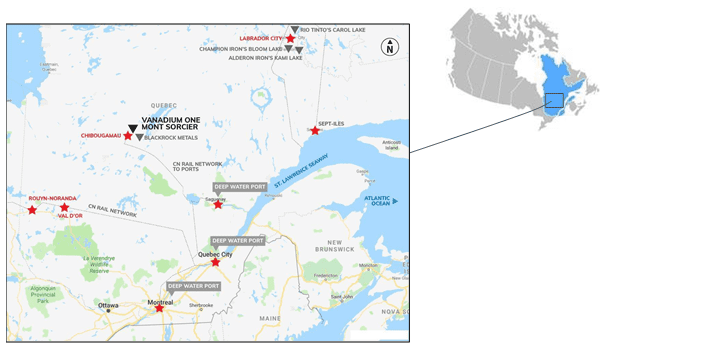 Iron and Vanadium Pricing Market Study
In preparation for the PEA, the Company commissioned an Independent Market Pricing Study to determine the potential value of the vanadium rich iron product produced by Mont Sorcier given the lack of available quoted market index prices. The study was completed by Paul Vermeulen of Vulcan Technologies in late October 2019. The study reviewed main iron index price forecasts as well as estimates of the applicable vanadium credits. The study reviewed a value in use methodology based upon a review of the grade and concentrate chemistry from Mont Sorcier relative to other similar iron products and the study concluded that the concentrate from Mont Sorcier should receive a US$15/t premium to the Platts 65 price iron Index for the contained vanadium credits (based on a net attributable value using a long term V2O5 price of $7.25/lb). The PEA used a concentrate selling price aligned with those in the Vulcan Market Study (October 2019) with an average value over the life of the project at C$140.79/t. An example of the pricing for 65% concentrate is provided in the table below.

Mining
The mine design is based on the sequential mining of the South zone followed by the North zone using standard open pit mining techniques of drill, blast and haul. This will allow for the South pit to be used for waste disposition in future years. CSA Global has developed a mine plan which processes 555 million tonnes of the current resource base over a 37-year mine life at an average strip ratio of 0.89 to 1. Mining will reach a peak of material movement of approximately 44 million tonnes per annum. Mining costs are estimated at C$2.29/t of material moved. SiO2 content will be kept under 2.5% through pit grade-control practice to maintain above 65% Fe in concentrate.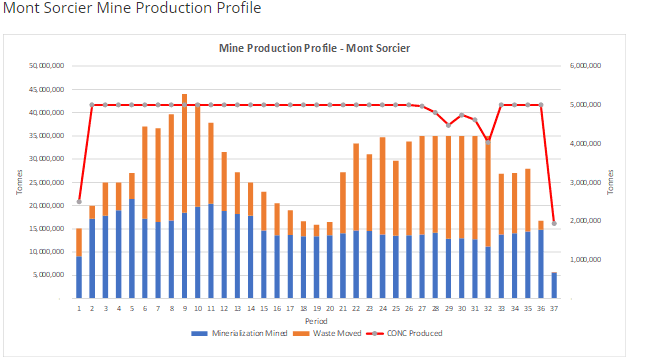 www.ferroalloynet.com