Vanadium Production From Four Large Producers In Q2 And H1 2021
www.ferroalloynet.com: According to the quarterly report from companies, FerroAlloyNet make one production summarization on the large vanadium companies. Detailsare as below.
Evraz
Gross vanadium slag production from Evraz in Q2 2021 was 5206 tonnes, with a growth of 8.5% from last quarter of 4,798 tonnes . In the first half of 2021, Evraz produced 10,004 tonnes gross vanadium slag, declining by 0.7% compared with the quantity of 10,077 tonnes in H1 2020. Its sales of vanadium products fell by 3.6% QoQ to 3,247 tonnes in Q2 2021, mainly due to changing the regional sales and product mix to support the increased FeV demand, resulting in longer lead times. And its half year sales of vanadium products in 2021 were 6,615 tonnes, climbing by 17.9% compared to the same period of 2020.


Largo Resources Ltd
Its V2O5 production was 3,070 tonnes (6.8 million lbs) in Q2 2021, a 20% increase over Q2 2020 and 55% above Q1 2021. And its sales were 3,027 tonnes of V2O5 equivalent from its Maracás Menchen Mine in Q2 2021.The key reason for this increasing was that the Company concluded the commissioning and ramp up activities associated with its kiln and cooler upgrades, including improvements of the mining, crushing and milling circuits to support a new nameplate production capacity of 1,100 tonnes of V2O5 per month in Q1 2021.  Largo produced 5,056 tonnes V2O5 in H1 2021, slightly decreasing by 6.25% compared to the quantity of 5,393 tonnes in H1 2020.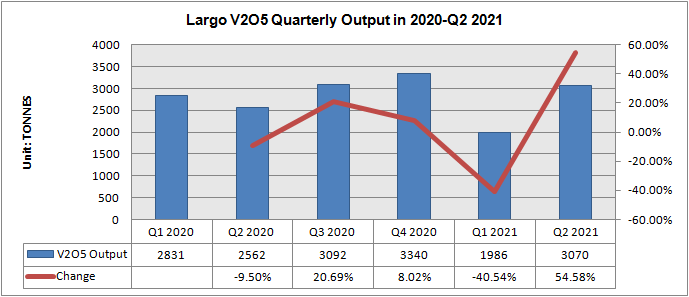 Bushveld Minerals Limited
Group production in Q2 2021 was 886 mtV (Q1 2021: 688 mtV), underpinned by improved operational stability at Vametco in the period. Group sales in Q2 2021 was 820 mtV1 (Q1 2021: 788 mtV), supported by higher production volumes at Vametco.
Vametco produced 278 mtV and 261 mtV for the months of May and June respectively, as a result of improved operational stability and performance following the 35-day maintenance shutdown in Q1 2021. And its quarterly production in Q2 2021 was 593 mtV, with a growth of 50.3% compared with that in Q1 2021. H1 2021 production of 988 mtV, was 19 % lower than H1 2020 (H1 2020: 1,226 mtV), due to poor plant performance in Q1 2021 and the unprotected industrial action in April 2021, subsequently followed by improved performance and stability in Q2 2021.
And Vanchem produced 293 mtV in Q2 2021 in line with Q1 2021 (Q1 2021: 293 mtV). H1 2021 production of 586 mtV was 35 per cent higher than H1 2020 production (H1 2020: 435 mtV), as a result of the temporary suspension of operations in Q2 2020 due to the 21-day COVID-19 nationwide shutdown in South Africa.
Company

Location

Products

Q1 2020 

Q2 2020 

Q3 2020 

Q4 2020

Q1 2021

Q2 2021

Bushveld

Vanchem

V2O5, FeV

219

212

294

261

293

293

Vametco

Vanadium (Nitrovan plus FeV)

652

566

725

703

395

593

Total( mtV)

871

778

1019

964

688

886
Glencore
Glencore produced 5.5 million pounds (2494.76 tons) vanadium pentoxide in Q2 2021, staying same with the quantity in Q1 2021 and increasing by 34% from that in Q2 2020. And vanadium pentoxide production of 11.0 million pounds (4989.52 tons) was 2.7 million pounds (1224.7 tons) higher than H1 2020 with a growth of 33% YOY, also mainly reflecting the national lockdown in the base period.

Belows are the output of vanadium products from the four mainstream producers since 2018. Besides, Bushveld is going to produce V2O3 in Q3 2021 and the production guidance remains between 3,400 mtV and 3,600 mtV and is on track to meet it now. In addition, Bushveld intends to complete the now expanded prefeasibility studies ("PFS") at Vametco together with the technical studies currently under way at Vanchem in Q4 2021. These studies will determine the optimal path to increase production from Vametco and Vanchem in the most capital efficient manner.
Company

Location

Products(Ton)

2018

2019

2020

H1 2021

Glencore

South Africa

V2O5

9162.567

9162.5

8845

4989.6

Evraz

Russia

Vanadium Slag (Gross production)

17052

18380

19533

10004

Seles of Vanadium final products(FeV)

12353

12883

12534

6615

Bushveld

South Africa

V2O5 Flake, AMV,FeV, MVO

2562

2930

3632

1574

LARGO

Brazil

V2O5

9830

10577

11825

5056
www.ferroalloynet.com