Vanadium Raw Material Prices Fell Slightly This Week
www.ferroalloynet.com
: This week, the overall domestic 
vanadium
 market is weak, with a small drop in the transaction price of raw materials. There are not many transactions of vanadium alloy this week, and there are less bidding from steel mills. There is gap between the bidding price of steel plants and the actual transaction price of spot goods. Near the end of the month, alloy manufacturers are also willing to wait and see the bidding situation of steel plants, reduce the purchase of raw materials, and temporarily maintain a strong quotation.
Since the end of last week, the transaction price of V2O5 flake in bulk market was 105000 yuan / ton, which has dropped slightly to 104000 yuan / ton in cash today. According to some alloy manufacturers, there is transaction price of 103500 yuan / ton as well. At present, the spot supply of V2O5 flake in the market is still full, and the price drop is slow, which is supported by the mainstream quotation of large factories. Although large factories sign orders under pressure this month, the downstream ferrovanadium and VN alloy manufacturers still sign orders in order to maintain the long-term agreement cooperation and market stability, thus the cost of vanadium alloy is capped at a high level, which also has a certain support for the later market. This week, the transaction prices of ammonium metavanadate and ammonium polyvanadate did not fluctuate much. However, due to the weak influence of vanadium pentoxide, the focus of transaction price also moved down slowly. At present, the transaction price of ammonium metavanadate 98% is 98000-99000 yuan / ton in cash, while some alloy factories only purchase between 97000 and 98000 yuan / ton. The transaction price of ammonium polyvanadate is 98000 yuan / ton in cash, which is a high price.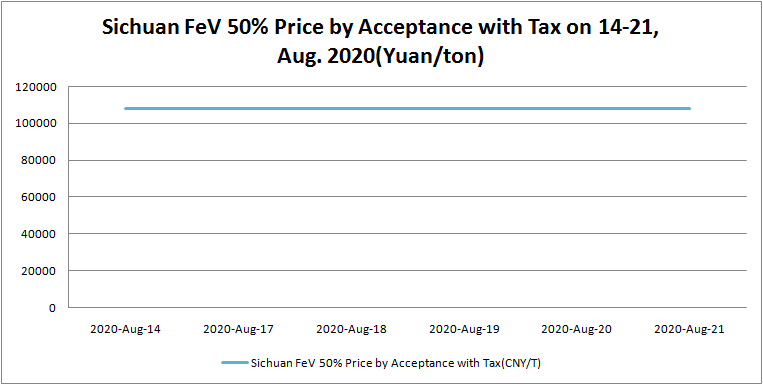 The ferrovanadium market was slightly bullish at the beginning of this week, but with the decline of raw material prices, market pessimism weakened the confidence in supporting prices. This week, the mainstream transaction price of ferrovanadium was deadlocked at 106000-107000 yuan / ton in cash. Due to the high cost and low output of the processing plants, the supply and demand of the market is barely in balance, which makes ferrovanadium market remain stable this week. There is no sign of decline for the time being, and it is expected to remain stable next week.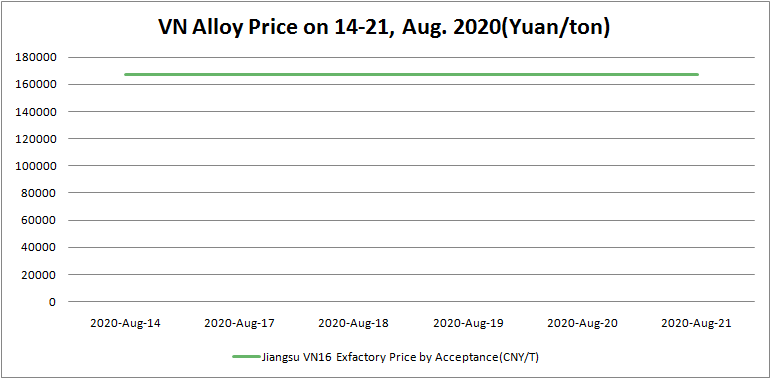 This week, there is not a small gap in VN alloy market transactions. The highest bidding price of steel plant is 167500 yuan / ton by acceptance, and the lowest is 161500 yuan / ton in cash. The price difference is nearly 3500 yuan / ton. It is difficult for steel plants with suppliers mainly composed of manufacturers to further reduce the price, and the quotation of spot market fell to 162000 yuan / ton in cash. In order to promote the transaction, some suppliers still have room for concession. It is expected that the VN alloy market will be weak next week.
www.ferroalloynet.com